Our Story…
Our story starts with one woman who found herself in a situation she never expected. That woman was experiencing poverty firsthand, living out of her car that she couldn't even pay the bills for. It was a season she would never forget. But it was nothing new. For most of her life her parents raised her on welfare. She was beaten by her father and struggled to find a source of love that her soul desperately needed. She wasn't content with her life so she escaped, running away from the lifestyle she had.
However, Dani Johnson was raised to fail and was bred to be in poverty. Despite the fact that she was raised to be stuck in poverty, she beat the odds and found some success as an entrepreneur. But, that success wouldn't last. Out of nowhere, she had her business stolen out from under her. She had been embezzled by someone she had considered a mentor. To add to the situation, her husband at the time had drained her bank accounts and she was all alone, stuck in Hawaii with no money to leave or go anywhere. She found herself worse off than she ever had before. But out of the ashes of poverty rose a strong, determined spirit destined to find freedom. So, out of the trunk of her car and a pay phone booth after having rediscovered her faith, she got to work, rebuilding her business from nothing. She built something that helped her achieve financial freedom.
The start to her story is similar to what most people find themselves in, but most people don't find the path to success so easily. Of course, it is never easy, but for some, the circumstances they find themselves in don't allow them to pursue and find success as easily as others. They are enslaved, live in slums with no possible opportunity to build anything that can last, and, for some, they cannot even find clean water to drink to live.
To be frank, poverty is rampant across the world. Having experienced poverty herself, Dani grew a passion for the poor. Her dream was to never allow another person to suffer alone. Out of that dream came King's Ransom Foundation. Today, we are proud to say that we have impacted millions of people all over the world. We have helped villages that had no access to water receive access to wells that will last generations. We have helped rescue trafficked children from the sex trade and also provided for their care and rehabilitation so they can live happy healthy lives. We have built homes for single moms that were living in slums and garbage in Nicaragua. We have done all this because of you.
Every year, we have dedicated donors who are committed to serving the needs of those less fortunate than themselves. The work we do is vital to helping those who are suffering receive the help they desperately need so they can live. Without you, our generous donors, we would be unable to do any of the work we do. All that we have accomplished is because of you. For that, we thank you for your support. With your help, our impact has been tremendous and we are incredibly grateful and excited for the future.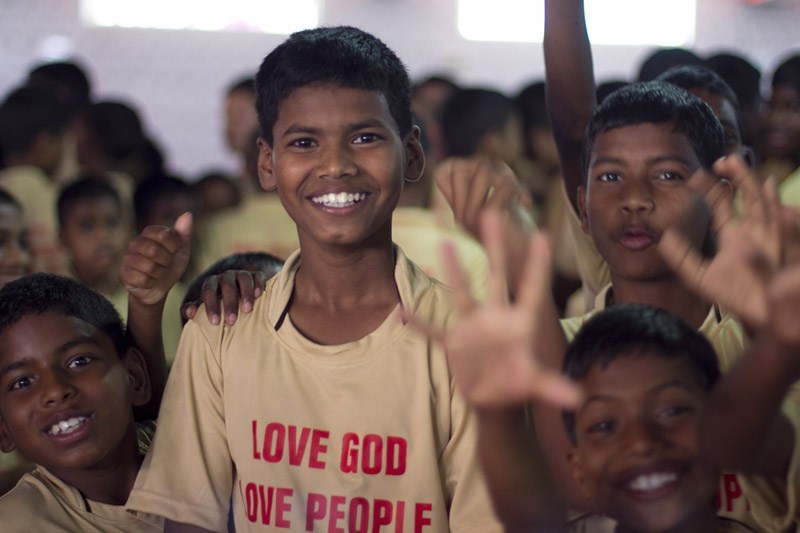 Our Mission…
Our mission is to help people like Antonia, who lives in the garbage slums of Nicaragua. Her only shelter is cardboard and her source of food is whatever she can find amongst the trash she called home.
It's to serve people like Chimwe, who lives in a village in Sudan with no access to clean water. Her children are sent with jugs down to murky brown creeks infested with bacteria and other unclean things that bring disease.
It's to hear the cry of Moshe, an orphan who lives in Israel. His parents were killed in a suicide bombing. Every day, he and his sister dig through the garbage at night for the food they need to stay alive.
It's to answer the desperate pleas of Brittney, who was trafficked and forced to perform horrific sexual acts for men who treat her as an object made solely for their pleasure and fulfillment.
We hear their cry. We see their suffering. And that is why we do what we do. Our mission is to answer the cry of the poor.
For Antonia, the answer was to build a permanent home for her and her family, so they could have shelter from the rain and wild animals. It was to give them chickens so they could have clean and sustainable food.
For Chimwe, it was providing a water purification system for her village so her village didn't have to suffer from thirst. Now, her children can live a life free of disease that would've been inevitable because of the filthy water they were drinking from.
For Moshe, it was building an orphanage and helping to provide food and water for him and his sister so they could grow up with the love and care they need to survive.
For Brittney, it was providing support for raids and then providing the food and care she needed to recover from the trauma she experienced and live a normal life.
The cry of the poor is all around us. We live in comfort, so it might be hard to notice, but we hear it. Now, you can hear it too. Now, you can choose to answer their cries. This is our passion. This is our reason for existing. 100% of every penny given goes directly to the poor. Whatever cause you give to, we guarantee that your donation will reach its destination. That is our promise to you. That is our mission. That is our cause.
Join us today and become an advocate for the poor. Answer the cry of others like Antonia, Chimwe, Moshe, and Brittney. Help us change lives. Our goal is to impact as many lives as possible, and you are the force that drives us forward. So, become an advocate for the poor today. We look forward to the future when no child has to suffer from hunger, thirst, or trafficking; where no mother has to wonder where she will get food for her children or where she and her children will sleep that night; where no one has to die from starvation or drinking dirty, contaminated water. Thank you for making that future possible.